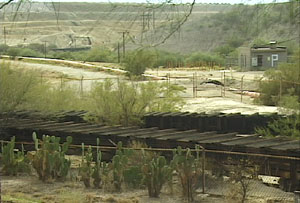 One of the old wooden wastewater aqueducts that carry "excess blowdown" wastewater away from the smelter complex. "normally," there are few occasions when these are used. Homes are very close to this, and children can wander up to the aqueducts. There is also a distinctive odor like battery acid (sulfuric acid) often around the area. At nearby residences, there have been many cancer cases reported, sometimes as many as six different cancer cases in the same home. Acidic conditions make heavy metals, like lead, 17 times more bioreactive.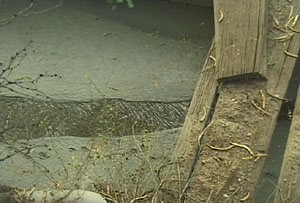 A closer look at the wooden "excess" wastewater aqueducts shows an opening, and the industrial wastewater is flowing amidst tailings sediments. Local people tell how their cats have fallen into this water and then lost large patches of their hair, or worse.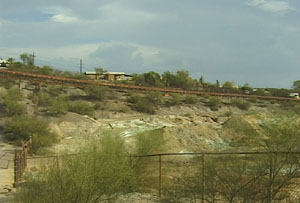 More of the wastewater aqueduct system, and the top edge of a huge gulley of hazardous wastes.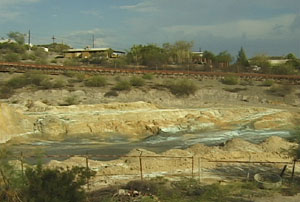 One wonders if the people in these homes can see past the aqueduct to this huge gulley of hazardous wastes. The greens and blues are from the copper and other heavy metals. Do you know of any other towns where a type of hazardous waste flows through the gulleys?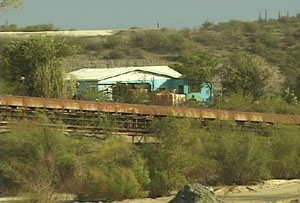 Not exactly a water slide...A house is very close to the wastes.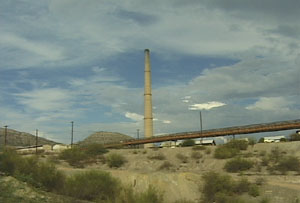 Looking back at where it all comes from.